The Be Fit JC Approach for Boot Camp Workouts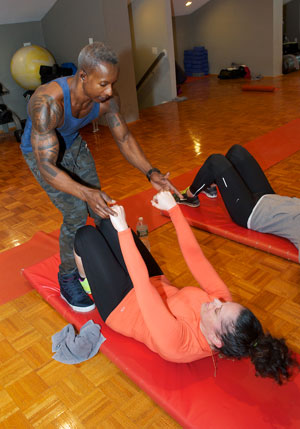 Be Fit JC Group Training workouts are a one of a kind, goal oriented fitness programs. I have trained and assist thousands of people to lose weight, tone muscle and guide them nutritionally for over 20 years. I believe change starts the moment you let the words "Yes, I can" into your life.
What makes Be Fit JC a success? Exercises are changed up after a good set of reps with varying degrees of difficulty. I pride myself on being able to attend to every one of my clients even while in a group setting. My "eagle eye" enables team members to feel as if they are in a private personal training session.
Your health, fitness and well being is my ultimate goal. I know you can achieve the weight loss and fitness reality you deserve. I believe in you! Everyone has the potential for greatness. A healthy and efficient body is within your reach! Drop in... your first session is free! Come in 30 minutes beforehand to introduce yourself, I would love to hear what your exercise concerns and needs are. I am excited for you to join our community and get you started!
All Be Fit JC memberships include:
Full gym access for the length of your membership
Unlimited group fitness sessions
Unlimited weight training clinics
Unlimited fitness consultations with Ron Aigle
Initial body composition and fitness analysis
Nutritional guidance and meal plans
Unlimited Yoga classes
Free subscription to fitness newsletter